Happy February! I am excited to announce the release of Grow CRM, v1.02. In this article, I will highlight the new features and improvements that come with this new release.
As always, this new release is a free upgrade for all existing Grow CRM customers. Updating to this new version is a very easy process, simply login into your CRM and go to Settings > Updates. From there, you will find all the information you need, to update your installation.
Right, lets jump right into it…….
---
Subscriptions
This feature has been requested by many of our customers. It adds another way for you to bill your clients and to get paid. Unlike the existing recurring billing feature, with subscriptions, your customer is automatically billed with no additional action being required on their part. This is great for services or products that you offer on a recurring basis.
You can set up daily, weekly, monthly, yearly or even custom recurring periods. All payments are automatically processed via your Stripe account. Currently, subscriptions are only available via the Stripe payment gateway.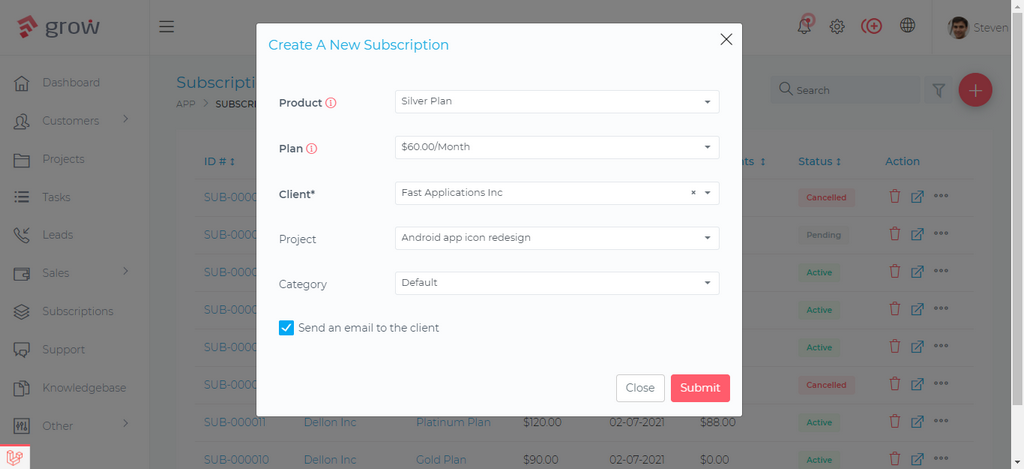 ---
RazorPay Payment Gateway
In the same spirit of making sure you get paid, we have added the very popular RazorPay payment gateway. This is a particularly important payment processor for our Indian users. It comes with a host of amazing payment options, such as credit cards, mobile payments, direct bank payments and many more.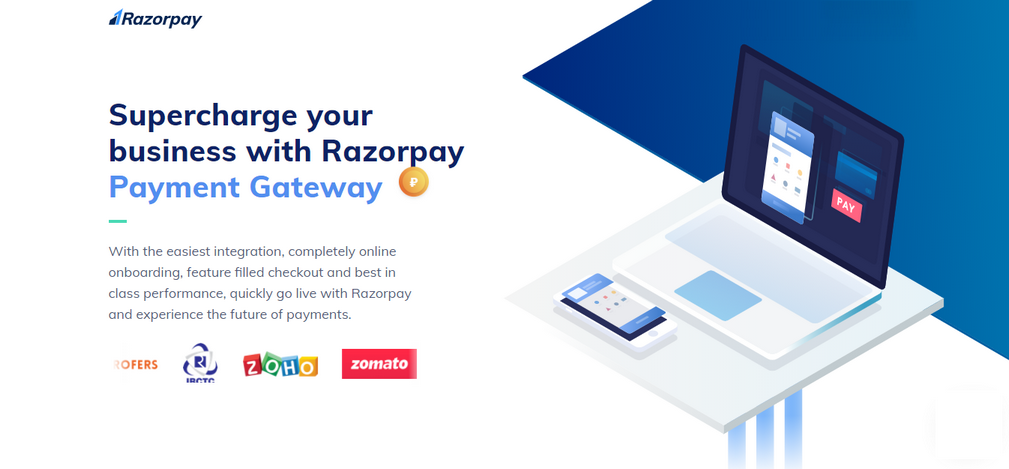 ---
Custom Form Fields
We appreciate that your business is uniquely different and so is the information that you may want to collect and store about your clients, projects and tasks. With custom form fields, you are now able to extend the default forms, to include your own data fields. You can add up to 10 new form fields. You can even specify whether they are mandatory of not.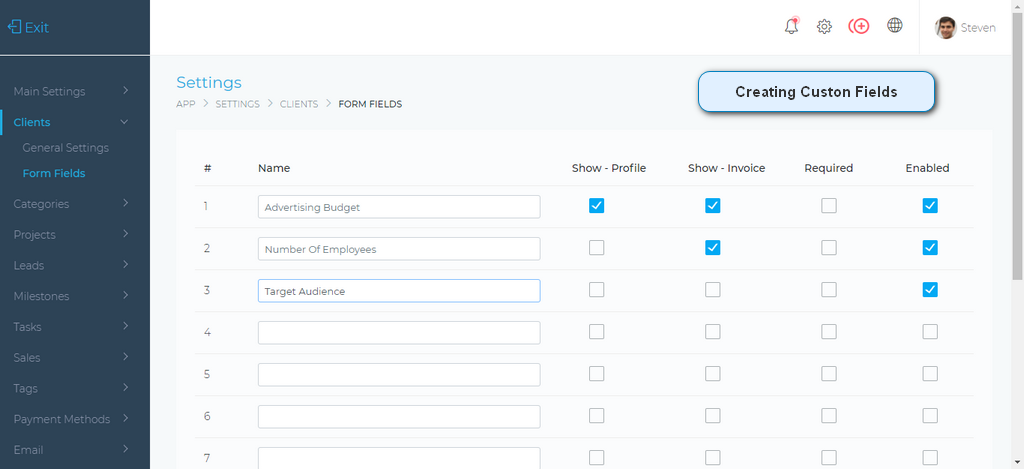 ---
28 New Languages
Yes, that's right……we have added 28 new languages and we are just starting. Our aim is to translate Grow CRM into many more languages. If your language is not currently included, you can drop us an email and we will add it to our list. We have also given you to option to disable the ability of your users to change the language.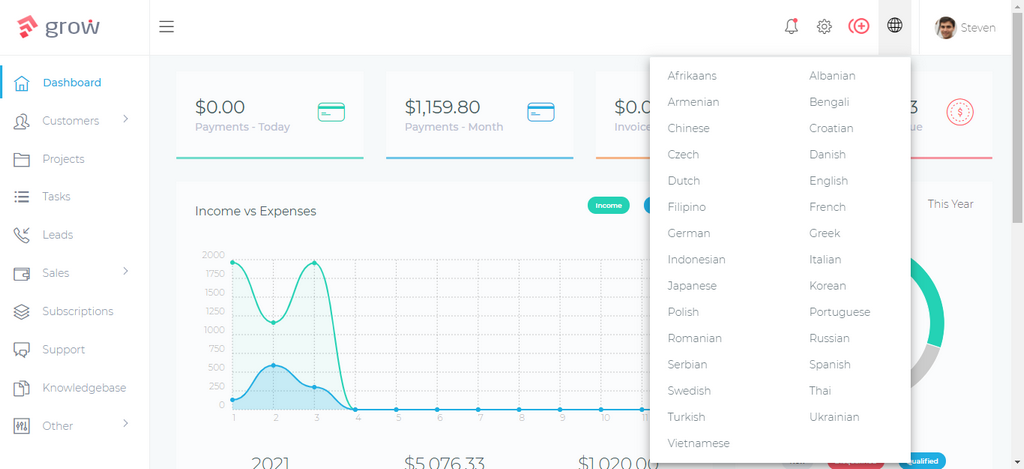 ---
Archive Projects, Leads & Tasks
This feature allows you to remove from view, aged projects, tasks and leads. You will be able to toggle between hiding or showing archived items. This is particularly useful if you are creating many such resources and you just want to keep your CRM lite and clean.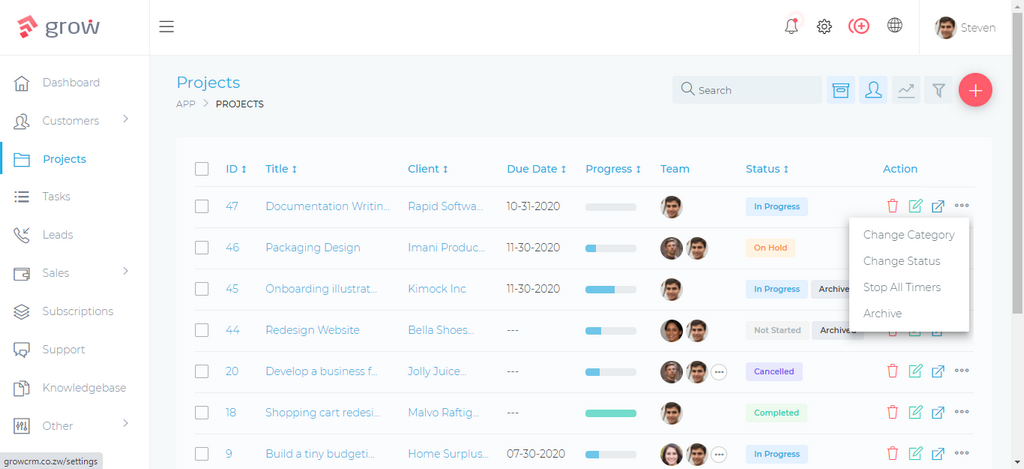 ---
Even more features
Below is a full list of all the features and improvements that are in this new release
New Feature – Customer subscription billing
New Feature – Create custom fields for clients, projects and task
New Feature – Razorpay payment gateway
New Feature – 28 language translations
New Feature – Archive projects, tasks, leads
New Feature – Email delivery testing using the….. "send test email" feature
New Feature – Add custom javascript and CSS in <head> and <footer> (e.g. Google Analytics)
Improvement – Allow multiple lines for invoice line item descriptions
Improvement – Ability for the admin to update user passwords
Fixed – Invoice & estimate email PDF attachments formatting
Fixed – Support tickets title error
Fixed – Currency symbol on payments section of invoices
Fixed – Task and lead comments not fully displaying
Fixed- Recurring invoices
Fixed – Knowledgebase mobile view
Fixed – Clients unable to create new tasks
Fixed – Broken product items search
Fixed – Broken file download links for Mac users
Fixed – various other bugs