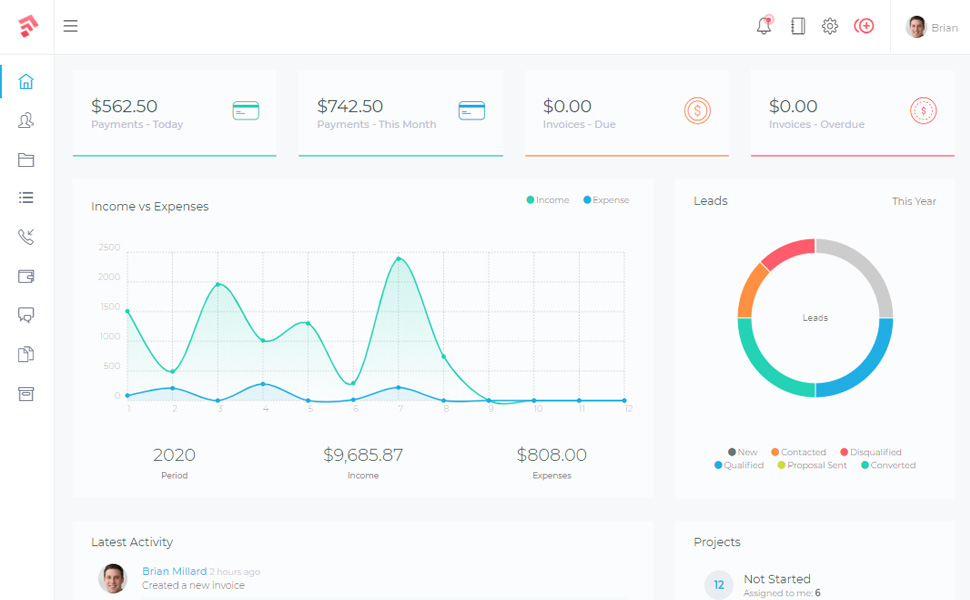 Managing your business relationships and operations efficiently is crucial for growth and success. A good customer relationship management (CRM) system like Grow CRM can help streamline your workflows and improve productivity. In this post, we'll explore the features and benefits of using Grow CRM for your business.
About Grow CRM:
Grow CRM is a self-hosted CRM platform that you pay for once and can use forever. It is specially designed to help businesses manage their clients, projects, tasks, invoices, payments and more from a centralized platform.
Some key features of Grow CRM:
– Project Management:
Grow CRM provides robust project management capabilities to plan projects in detail, set milestones, create tasks, assign them to team members, manage dependencies and track progress. This helps teams collaborate effectively and deliver projects on time.
– Invoicing:
The flexible invoicing features allow creating customized invoices, sending them to clients, and accepting online payments seamlessly. Recurring invoices for subscriptions can also be configured. Payment processing integrations with Stripe and PayPal simplify getting paid.
– Tasks:
Tasks can be used to break down project work into smaller executable units. Tasks are assigned to individuals, can have attachments, comments, due dates and progress tracking. This level of task management ensures work gets completed efficiently.
– Leads and Opportunities:
Comprehensive lead and opportunity management helps capture leads from various sources, track communications, attach files, guide leads through your sales funnel and ultimately convert them into customers.
– Time Tracking: The time tracking tool lets you record time spent on tasks and projects. This time can be invoiced to bill clients accurately. It provides visibility into how time is spent by the team.
– Team Collaboration:
Grow CRM promotes collaboration by allowing team members and clients to share comments, files, and notes on tasks and projects. The shared access keeps everyone on the same page.
– Customer Support:
Email and ticket-based customer support system helps track issues and conversations. An online knowledge base provides self-service resources to customers to find answers.
– Client Portal:
A personalized client portal gives customers access to relevant information like tasks, projects, invoices, and knowledgebase, allowing them to track progress and communicate without contacting your team.
Benefits of Using Grow CRM:
– All-in-one platform to manage your business operations efficiently:
Grow CRM combines CRM, project management, invoicing, support and more in one integrated platform. This consolidated view and access to all information helps manage operations seamlessly.
– No recurring fees, just one-time payment:
There are no monthly or annual recurring fees. You pay once for the software license and own it forever, including access to future updates. This makes it very cost-effective in the long run.
– Improved team and client collaboration:
Features like shared task comments, client portal access, and project file sharing foster collaboration between team members and clients. This leads to better communication, transparency and outcomes.
– Enhanced productivity and project delivery:
Task management, time tracking, and resource allocation features enhance productivity. Project management tools ensure projects get completed on time and within budget.
– Better customer experiences:
Client portal, support ticketing, knowledgebase help deliver consistent and improved customer experiences which lead to higher satisfaction and retention.
– Scales with your growing business needs:
The platform is designed to be flexible and scalable to adapt to growing teams, projects, and organizational changes. This ensures it can manage expanding business demands.
– Customizable platform aligns with your workflows:
Grow CRM can be easily customized to match unique business processes through configuration options, custom fields, rules automation etc.
– Self-hosted provides you full data control and privacy:
Your data resides on your own servers, providing you with complete ownership and privacy. This is especially helpful for regulated businesses like healthcare and financial services.
Conclusion:
Grow CRM provides a feature-rich yet easy-to-use platform to manage your critical business processes – CRM, project management, billing, support and more – in one single solution. It can prove highly valuable for businesses looking for an affordable but customizable CRM that gives complete data privacy along with all the essential tools for growth.