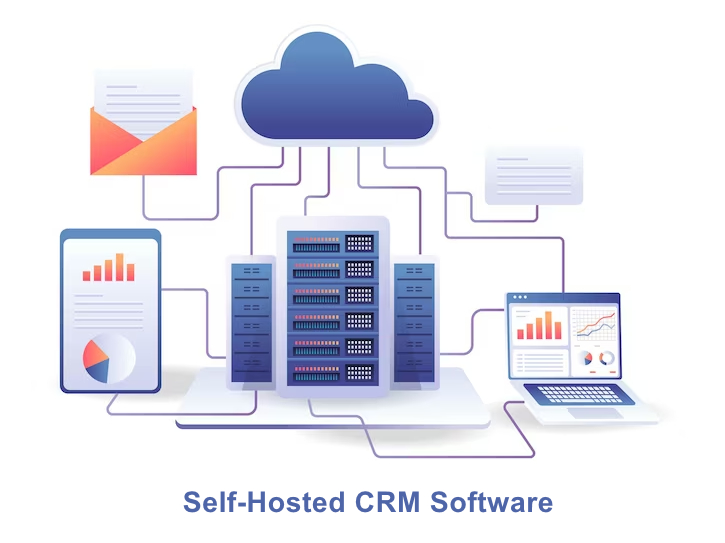 Customer relationship management (CRM) software has become invaluable for businesses looking to effectively manage their relationships and interactions with customers. But while the majority of companies still use hosted or software-as-a-service (SaaS) CRM solutions, self-hosted CRMs are growing in popularity for the unique benefits they offer.
If you're considering a new CRM system for your business, here are some of the key advantages of choosing a self-hosted CRM rather than a hosted one:
Lower Total Cost of Ownership
With a hosted CRM, you need to pay a recurring monthly or annual subscription fee per user. These costs add up over time and can take a toll on your bottom line. Self-hosted CRMs like Grow CRM require just a one-time purchase fee for an unlimited number of users. Without any recurring fees, the total cost of ownership over several years is much lower.
Flexibility and Customization
Since you host the CRM software on your own servers, you have full control to customize the platform to your business needs. You can easily integrate other apps, tools and databases without restrictions. Hosted CRMs offer little flexibility beyond their default features and configurations.
Data Security
Your business data is arguably your most valuable asset. With a self-hosted solution, all your CRM data remains private within your database. You don't need to worry about a third-party accidentally exposing or losing your data. You remain in full control over the security protocols like backups and encryption.
Compliance with Regulations
For businesses in regulated industries like healthcare, finance and government, it can be advantageous to have a CRM system hosted on your own infrastructure. This better allows you to comply with any mandated data security, privacy or residency requirements.
Reliability and Performance
Your CRM performance and uptime relies completely on your own infrastructure and resources when self-hosted. You don't have to worry about another vendor's servers going down or slowing down. Investing in reliable hosting and bandwidth helps guarantee optimal CRM performance.
Innovation and Competitive Edge
A self-hosted CRM like Grow CRM gives you access to all the latest features and innovations when you upgrade. You aren't locked into a vendor's predetermined upgrade roadmap. This allows incorporating CRM enhancements that can give your customer experiences an edge.
While the trend is toward SaaS CRM solutions, businesses who want greater control, customization and cost savings are recognizing the unique advantages of self-hosted CRMs. Evaluating options like Grow CRM can reveal it as an ideal choice to get the most from your CRM investment.